World Galloway Conference (WGC)
2018 WORLD GALLOWAY CONFERENCE
ADELAIDE, AUSTRALIA
6 – 9 September 2018
Learn More About Adelaide – http://www.southaustralia.com/places-to-go/adelaide
Temperature
The month of September is characterized by gradually rising daily high temperatures, with daily highs increasing from 17°C to 19°C over the course of the month, exceeding 24°C or dropping below 14°C only one day in ten.
Daily High and Low Temperature in September
The daily average low (blue) and high (red) temperature with percentile bands (inner band from 25th to 75th percentile, outer band from 10th to 90th percentile).
Daily low temperatures are around 9°C, falling below 5°C or exceeding 14°C only one day in ten.
Fraction of Time Spent in Various Temperature Bands in September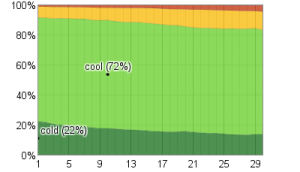 The average fraction of time spent in various temperature bands: frigid (below -9°C), freezing (-9°C to 0°C), cold (0°C to 10°C), cool (10°C to 18°C), comfortable (18°C to 24°C), warm (24°C to 29°C), hot (29°C to 38°C) and sweltering (above 38°C).
List of Galloway Associations: